A brief introduction: Mrs. Bella Bang
So, she has a bed, and it's absolutely large enough for her, but sometimes she doesn't seem clear on how to use it.
This is Bella.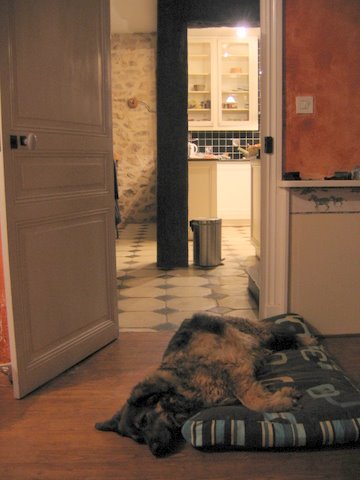 We imagine her full name to be Mrs. Bella Bang, principally because she sometimes has the air of a lady "of a certain age" as they say here, who carries a somewhat behind-the-fashion but very sturdy handbag which she is not afraid to swing with great force when some young rapscallion is raising a ruckus and needs some manners knocked into him.
Gave him a thwack on the earhole and sent him to bed without any dinner, eh Mrs. Bang?
That's exactly right.
She's not an old dog, even though she's a bit grizzled about the chops — she's around 5. Her life had a very rough start, though, so her occasional crotchetiness is easily forgiven.
You can see her actual youth most clearly when it's time to go out for a jaunt — she keeps her serious expression, but her legs go from standing still to springboks-ahoy; the general impression is something like seeing a policeman on a pogostick.
"Bella" is (as you are quite possibly aware…) Italian for "beautiful"; Bella was thus christened by our friend Anita (of "Anita & Jean-Louis", whom I will likely revisit elsewhere), an authentically Italian lady, so it's not just some silliness of ours.
She (Bella) was rescued from a terrible fate by Jean-Louis and Anita and lived with them in southern France for most of her life. Preeta and I joined the greater pack as well for about a year, before we moved here to Le Chalard, and Bella ended up joining us — J-L & A were moving back to Italy, and were faced with limited space as well as a tense relationship between Bella and another less-stable, more recently rescued dog.
But back to the name — is Bella bella? As dogs go, she's not primarily a looker, but she's been getting a lot of compliments from our new neighbors, so, sure, in spite of her being a bit allantoid. (Hooray! I actually used a word I learned on freerice.com…). And her veterinary documents list her robe (coat, but literally "dress") as noir et feu (black and fire) which is undeniably poetry of the highest order.
And… it's time to take her out again before bed.  Sproing!  It warms the heart.